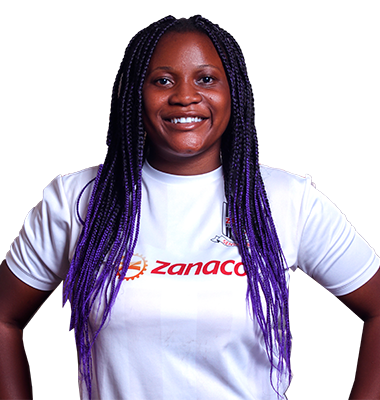 Martha Nshimbi
Media Coordinator
Nationality

Zambia
Is the Media Coordinator at Zanaco Football Club with a significant background in the world of Sports and media. She also serves as the Clubs public relations manager.
Her responsibilities are to develop and implement targeted communications and advertising content for a variety of media platforms. She writes and proofreads all content that goes out on all the club's media pages including the website. Nshimbi is also mandated to develop content from the club for broadcast, print and online distribution, and create and manage the clubs' social media profile and presence.
Prior to Zanaco Football Club Appointment, Ms Nshimbi worked as a Project Officer for Youth Development Organization Zambia in 2016. Later on Joined Byta FM Radio Zambia where she worked as a Sports Reporter, Sports Radio Presenter, Soccer Analyst and Soccer Commentator from 2017 until her appointment at Zanaco Football Club on 1st March 2019.
She holds two certificates in Citizen Journalism; one from Alliance for Community Action of Zambia and Global Platforms Zambia.
She is currently pursuing her Bachelor's Degree in Mass Communication and Public Relations at Cavendish University Zambia.
Her desire is to see Zanaco Football Club well marketed and publicized locally and worldwide.
It seems we can't find what you're looking for.